Social Impact Progress and More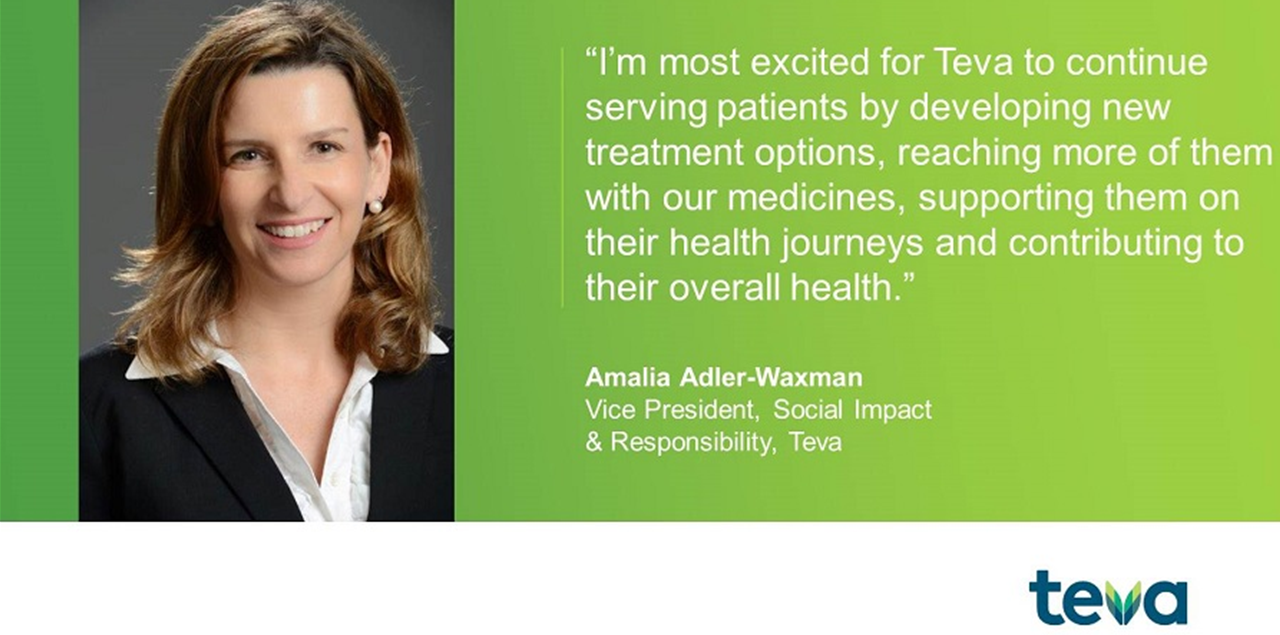 At Teva, we strive to improve the lives of our patients and go beyond our medicines to create a healthier world. Our recently released 2018 Social Impact Report details our efforts and progress to make a positive impact. We sat down with Amalia Adler-Waxman, Vice President, Social Impact & Responsibility to learn more about the report and how Teva is making a difference.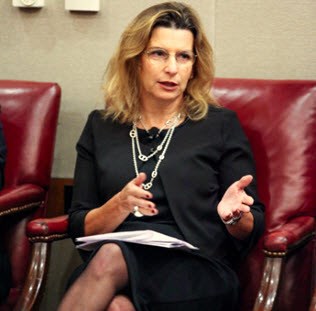 What does Social Impact mean for Teva?
As a company in the business of health, Teva has the opportunity and responsibility to impact health around the world and help address important social and environmental challenges.
Teva's Social Impact strategy is built on two pillars-contributing to healthy communities and leading a responsible business. Our focus on healthy communities means increasing access to medicines, developing specialty treatments, supporting patients through their health journeys and addressing global health issues. Our efforts to lead a responsible business include nurturing a strong culture of compliance, ethics and transparency, supporting our employees, protecting the environment, promoting patient safety and maintaining a responsible supply chain.
How has this evolved over the years?
Our commitment to patients and improving health has been central to Teva since we were founded 118 years ago. Our journey to our current Social Impact approach began in 2016, when we established our focus areas. In 2017, we reviewed global health and development needs. From there, we aligned on our Social Impact pillars, activities and efforts to support them and our vision for making a lasting impact.

In the same year, we talked to health leaders and patients and identified a pressing global health issue that is not well understood-multiple chronic conditions (MCC)-when a person has two or more chronic conditions. MCC is inherently tied to our business, as we manufacture many medicines to treat chronic conditions, or non-communicable diseases (NCDs). We decided to focus on MCC in our Social Impact efforts, and through partnerships across sectors, we are helping to shed light on the impact of MCC and working with leaders in healthcare and patient organizations to identify solutions.
What's new and interesting in this year's report?
There is so much to share. It's hard to choose.
Compliance and ethics are the backbone of everything we do. Last year, we trained more than 16,500 employees on 10 ethical behavior topics with a 98% completion rate.

Our work to improve access in 2018 was diverse and widespread. More than 900 of our generic medicines and 35 specialty medicines were approved. We are proud to have donated more than $380M worth of medicines to patients around the world and supplied 220,000 packs of antibiotics and 1.5 million packs of vitamin B6 for patients with tuberculosis. We also developed our Position on Access to Medicines, reinforcing our commitment to reach more patients with our quality medicines.
Our environmental sustainability progress and transparency were recognized by leading environmental non-profits. Teva received an A- score from CDP for climate change disclosure, and we've continued to reduce our environmental impact. For example, we reduced greenhouse gas emissions by 23% since 2012.
What are you most proud of in 2018?
Partnering with and bringing together thought leaders from health and patient organizations, governments and the healthcare and IT industries to discuss MCC. This is an area where I truly feel we are moving the conversation forward. We hosted a NCD Care Continuum event during September's United Nations General Assembly in partnership with Intel and the International Alliance of Patients' Organizations, which brought together more than 80 multi-sectoral leaders to discuss how we can improve the lives of those with MCC.
And we're keeping the momentum going. In May of this year, we gathered public health experts at the 72nd World Health Assembly in Geneva, Switzerland to discuss tools and resources for patients with MCC. We hope to continue advancing understanding of this topic in 2019.
What excites you about the future?
I'm most excited for Teva to continue serving patients by developing new treatment options, reaching more patients with our medicines, supporting patients on their health journeys and contributing to their overall health. And beyond that, I'm excited about the role Teva can play in addressing global health issues through unique partnerships.
We're also going to be announcing new environmental targets in the coming months. I'm looking forward to sharing those and our efforts to drive progress in this area, as we know a healthy planet is essential to the health of our patients and communities.
For more information on Teva's Social Impact efforts, visit our 2018 Social Impact Report.